Core Cutting in Abu Dhabi
What Is Core Cutting?
Core Cutting is process or technique use for creating openings for Pipes, Wires, Ventilation or air conditioning vents to fit through concrete and avoiding damaging the concrete structure. Core cutting must be carefully planned. in the areas of redundant and non-critical stress. Stress areas core cutting should be planned carefully.
Preparation of Core Cutting:
Concern person carefully mark the area, where Core Cutting is required. Using the metal detector, mark the position of rebar on the concrete surface and ensure the reinforcement bars are remain safe and if necessary, change the position to avoid damaging the concrete structure.
Core Cutting Machine
Core cutting machine consists of the following parts.
Jack Screw
Column
Water Valve
Electrical Motor
Gear Box
Spindle
Stand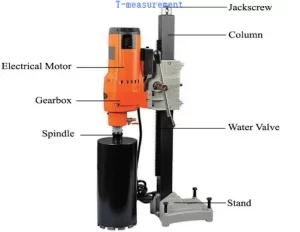 Applications
Core cutting is used to make provisional holes for the following purposes,

Electrical Wiring
Plumbing
Fire Fighting System
Rain Waters Outlet
Heating
Air Conditioning
Air Ventilation

Hole in the concrete can be done from the 08 MM to 1,500 MM in diameter using the Core Cutting machine which has different capacity and models.
Using the core drilling / cutting machine, stitching method use to cut the floor, open duct in concrete.
Advantage of Core Cutting
Following advantages of Core Cutting such as,
To drill holes in concrete, core-cutting is a fast, accurate, and clean way.
It requires much fewer labor hours which in turn leads to significantly lower operating costs and it is much faster and more efficient.
In creating precise holes and cuttings with minimal or non-existent damage to the surroundings it is extremely effective.
It eliminates dust and reduces the amount of waste.
This process does not transfer the vibrations to the nearby structures and keeps them safe and during the drilling operations, it structure remain sound.
Dis-Advantage of Core Cutting
There are some elements of dis-advantage of the core cutting process.
Core cutting procedure may result in the damage of structure problem if main rebar is cut in the core cutting operation.
Core cutting machine may result in high cost as the machine is very expensive.
Core cutting procedure required technical knowledge, supervision
For further information and your any requirement for Core Cutting, Concrete Cutting and Demolition, please contact,
Mr. Riaz Kalu
Star Core Cutting and Demolition Services
Contact Number:    (UAE) +971 50 7497 049
E-Mail Address:         Sales@StarCoreCutting.com
Website:                     www.StarCoreCutting.Com